Gizmo Sip
420 ml
AUTOSEAL® Automatically seals between sips to ensure no spills. Press to sip. Release to seal
Spout shield covers spout
Carry handle with soft grip
One-handed operation
Dishwasher safe
Contigo developped a 100% spill & leak proof kids bottle, Gizmo Sip.
The kids bottle is equipped with the patented AUTOSEAL® technology. Remove the spout cover, press the button to drink and simply release to seal. The system seals automatically between sips. Because of the carry loop with soft grip, it's very easy for kids to use the bottle and carry it around. The spout cover, keeps the spout clean from dirt. The lid opens for fully access cleaning, no loose parts.
H.: 17 cm
H without lid: 23,5 cm
Ø widest point: 8,5 cm
Caution
Not for use with hot, carbonated, pulpy or perishable beverages.
Not intended for children under 3 years of age.
DO NOT microwave or freeze.
DO NOT use cleaners containing bleach, chlorine, abrasives and/or other harsh chemicals.
DO NOT continue to use if damaged.
Usage recommendations

Cleaning instructions
Wash thoroughly before first use.
Flip open the lid interior before rinsing or washing.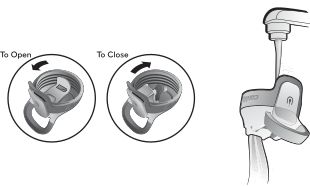 RINSE LID IMMEDIATELY AFTER EACH USE with warm water, pressing the AUTOSEAL® button so water flows through drink spout and vent hole.
Lid and plastic body are top-rack dishwasher safe.
If washing by hand, soak lid for 10 minutes in hot, soapy tap water. Hand wash body with warm water and a mild detergent. Rinse both lid and body thoroughly before use.
ALWAYS STORE BOTTLE WITH LID REMOVED to allow parts to dry completely.